We have always considered dry fruits to be the part of premium bucket list. In a country like India, dry fruits are always welcomed on occasions and celebrations, as, we never secured a place for dry fruits in our regular diet plate. This is also because of lack of information about dry fruits nutrition facts. Don't panic! This article would definitely change your overall opinion about dry fruit nutrition which would help you choose good dry fruits for health. You will get all the needed answers to, dry fruit nutrition, protein in dry fruits, good dry fruits for health, calories in dry fruits etc., which would force you to add these healthy bombs in your recipes and enjoy.
Discussed below are vital nutritional facts of some very common dry fruits, easily available at stores or online, for you to grab the best out of it.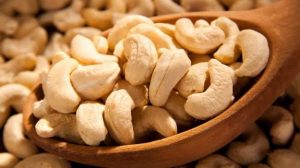 1.Cashew nuts (kaju) :
Kaju is the most common among good dry fruits for health yet holds plethora of benefits. These are considered as heart-healthy fats, as, it reduces the risk of cardiovascular diseases by kicking out bad cholesterol and building the good ones. The presence of essential micronutrients such as copper, magnesium, and protein in dry fruits like cashew nut is amazing for the health of the brain, immunity, bones, and digestion. These nuts are rich in antioxidants, thus, helps to lower the risk of oxidative cell damage. Having 4 to 5 nuts regularly is a tremendous way for losing weight.
Dry Fruits Nutrition Facts:
100g of cashew nuts serves as follow:
Calories:553
Healthy fat:43g
Sodium:12g
Carbs:32g
Dietary fibre:3g
Protein:18g
Potassium : 660mg
Iron:37%
Calcium :4%
*Percentages are based on general dosage of 2000 calories a day.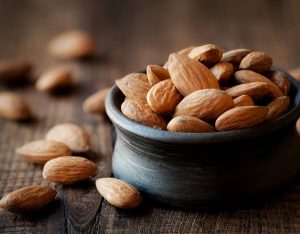 2.Almonds (Badam) :
Badam is the most favoured nut among good dry fruits for health. Packed with immense benefits, these nuts help the nutritional Profile of Dry Fruits your body reduce cholesterol, sugar, anaemia, weight, birth defects, and much more. Studies have shown that consuming 8 to 10 soaked almonds on a daily basis improves brain, immune, and nerve functions. For most of you, soaking almonds at night and having them in the morning often becomes hectic, well, in this case, try adding almonds in the ingredient list to give a boost to your recipes and health at the same time.
Dry Fruits Nutrition Facts:
100g of almonds serves as follow:
Calories:579
Protein:21g
Dietary fibre:12.50g
Calcium:269mg
Iron:3.71mg
Magnesium:270mg
Potassium:733mg
Vitamin E:25.60mg
Healthy fat:12.50mg
Carbs:21.55mg
Rich in omega-3, walnut holds a position among good dry fruits for health. People often avoid dry fruit nutrition for the fear of weight gain due to high amount of calories in dry fruits. But, the fact is, these dry fruits, especially walnut, provide you enough calories to reduce your appetite and promote weight control. Having 2 to 3 walnuts daily will saturate your body with major health benefits such as flushing out bad cholesterol, managing, type 2 diabetes, fighting free radicals, reduced inflammation, lowering blood pressure and promoting healthy gut. Packed with calcium, iron, magnesium, B vitamins, potassium, and vitamin C, the healthy aspects of walnut goes much beyond its classic taste.
Dry Fruits Nutrition Facts:
100g of walnuts serves as follow:
Calories                        654
Healthy fat                   65g
Potassium               441mg
Carbs                             14g
Dietary fibre                   7g
Protein                          15g
Calcium                          9%
Vitamin C                       2%
Vitamin-B6                    25%
Iron                                16%
Magnesium                  39%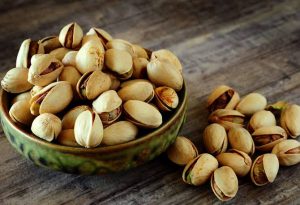 4.Pistachio Nuts (Pista):
Brimming with high levels of unsaturated fatty acid, antioxidant and anti inflammation traits, pistachio nuts are aNutritional Profile of Dry Fruits blessing for heart patients. Consuming a handful of pista nuts are commendable for blood pressure, blood sugar and weight of course. The presence of fibre and protein in dry fruits like pistachio nuts are amazing to keep you full for longer time, hence, proves very effective in managing the body size. These cholesterol free snacks are home of essential micronutrients including, B vitamins, copper, iron, potassium etc. Thus, this has to be a part of your meal plan.
Dry Fruits Nutrition Facts:
100g of pistachio nuts serves as follow:
Calories:560
Healthy fat:45g
Carbs:27g
Sodium:1mg
Dietary fibre:11g
Protein:20g
Calcium:105mg
Potassium:1025mg
5.Raisins (Kishmish) :
These dried grapes are crown of all rich recipes, whether spicy or sweet. Despite being small and light, raisins are a great source of protein, fibre, energy and other influential vitamins and minerals. High in sugar and calories, this dry fruit is a healthy asset to your body, as, it aids digestion, metabolism, iron level and bone building. Having 1 ounce of raisins daily is amazing to prevent you from anaemia, risk of cancer, heart diseases, constipation, aching tooth, etc.
Dry Fruits Nutrition Facts:
100g of raisins serves as follow:
Carbs:73g
Dietary fibre:5g
Protein:3g
Potassium:322mg
Vitamin C:1%
Calcium:2%
Iron:4%
*Percentages are based on general dosage of 2000 calories a day.
6.Dry Apricots (Khumani) :
Dried apricots are extremely healthy and visibly enchanting on the same page. These are rich in dietary fibre, thus, smoothening the bowel movement to keep your tummy happy. Dried apricots are kings of vitamin A and potassium among all good dry fruits for health. The presence of calcium, magnesium, moisture and antioxidant properties in it helps your body to flush out toxic elements and promote good skin, digestion, vision and healthy liver. Calories in dry fruits are often high but dry apricots hold the lowest calories among all, therefore, your breakfast shouldn't be complete without 3 to 4 pieces of this dry fruit.
Dry Fruits Nutrition Facts:
100g of dry apricots serves as follow:
Calories:241
Carbs:63g
Healthy fat:0.5g
Dietary fibre: 7g
Sodium:10mg
Potassium:1162mg
Protein:3.4g
Vitamin A:72%
Iron:15%
Vitamin B6:5%
Vitamin C:1%
Calcium:5%
Magnesium:8%
*Percentages are based on general dosage of 2000 calories a day.
7.Fox Nut (Makhana) :
Makhana is a healthy alternative to popcorn, as, these are crunchy, delicious and exceedingly beneficial. The presence of antioxidant and anti-inflammatory character in it is incredible to slow down aging effects, detoxify the body, manage blood pressure and diabetes, heal arthritis and much more. Stuffed with magnesium, potassium and low amount of sodium, makhanas are considerable for those looking forward to prevent weight gain and hypertension. Adding handful of fox nuts is a tremendous way to raise the nutritional value of your food.
Dry Fruits Nutrition Facts:
100g of fox nuts as serves as follow:
Calories:347
Carbs:77g
Protein:9.7g
Healthy fat:0.1g
Dietary fibre:14.5g
8.Dry Figs (Anjeer) :
High in fibre, dry figs are known to tone and relax the intestines. The existence of calcium, prebiotics, potassium and other required minerals act as helping hands to improve the gut and reproductive health, strengthen bones and teeth, improve iron deficiency and reduce appetite. Dry fig contains small amount of wide variety of nutrients, hence, make sure to include 2 to 3 in your daily diet to nourish your body, taste and manage weight.
Dry Fruits Nutrition Facts:
100g of dry figs serves as follow:
Calories:249
Healthy fat:0.93g
Carbs:63.87g
Dietary fibre:9.8g
Protein:3.3g
Calcium:162mg
Iron:2.03mg
Potassium:680mg
Vitamin C:1.2mg
Sodium:10mg
9.Dates (khajoor) :
Dates are popular among good dry fruits for health since ages. This dry fruit is packed with nutritional marvels including, fiber content, high antioxidant, and antibiotics, protein, rich vitamins, selenium, magnesium, copper, potassium, low sodium, iron, and more. Besides being a natural substitute of sugar, dates help controlling weight, improves hair, skin, and digestion, balance the functions of the nervous system, strengthens bones and muscles, and keeps a check on cholesterol level. Hence, must be consumed daily (usually 5-6) to uplift the meaning of your regular meal.
Dry Fruits Nutrition Facts:
100g of dates serves as follow:
Calories:277
Carbs:75g
Dietary fibre:7g
Protein:2g
Potassium:20%
Magnesium:14%
Copper:18%
Iron:5%
Manganese:15%
Vitamin B6:12%
*Percentages are based on general dosage of 2000 calories a day.
Seeds:
There are number of essential seeds, including, flax seeds, sesame seeds, chia seeds, pumpkin seeds, sunflower seeds, etc., which holds incredible nutrition to force you to consume these regularly. These vital dry fruit seeds are powerhouse of protein, fibre and other necessary vitamins and minerals to handle diverse health issues like cholesterol, blood pressure, weak bones and muscles, metabolism, sugar level, intestinal issues, etc. Scattering these seeds in your cooking is a major step towards a healthy lifestyle and nourished body.
The above mentioned facts, figures and learnings related to dry fruit nutrition, protein in dry fruits, calories in dry fruits and good dry fruits for health, helps to create awareness about the influence of these nuts and seeds to keep you fit anywhere.