The present times like these and further when pandemics are now a lifelong threat with increased risks of their eruption with no prior information and providing very little time to hold fast the strings. Still, under the havoc of this coronavirus, it is very clear that the worst-hit age groups are of children and aged. Moreover, geriatrics are wise enough to take good care of their health and can be fed with immunity rich foods with little or no problem associated with reluctance towards foods that are not very appealing to the taste buds. The real challenge lies in convincing the smaller ones to develop habits of healthy eating and right choice of foods. It can be difficult at times to persuade them in having veggies or fruits that are essential in immunity building and preventing certain chronic medical conditions. Given the facts, it is really necessary for kids to be taught the importance of healthy food over junk food. Now when children all around are busy in what we call 'studies from home' there could not be more appropriate time to incorporate those healthy snacks/foods in their diet with the motive of 'healthy learning'.
Discussed below are some of the ways or more precisely some of the healthy kids snacking ideas for developing healthy habits in kids that too easily available at the online platforms-
Beetroot chips– A red root vegie meant for increased efficiency of bodily functions such as a maintained blood pressure (both systolic as well as diastolic), increased oxygen concentration in the body during athletic activities and exercises, increased production of iron inside the body which is highly linked with increased energy levels. The nutrients such as vitamin b9, manganese, fibers, protein, phosphorus, etc. have their own respective functions that cannot be underestimated. Vitamin B9 or folic acid is the precursor of formation of iron (hemoglobin) in the body hence improving both arterial and heart health which in turn can be a contributing factor towards a good immune system which is what is necessary for children. Coming to the beet chips they are an easily available snack to be inculcated in a kid diet to improve healthy habits. Making them a part of kids pre-lunch snacking is a healthy alternative also adding them to lunch boxes make a healthy school snack. Another way of making it healthy food habit is having them with dips and spreads. They can also make a salad rich by their crunch and appealing texture dear to children.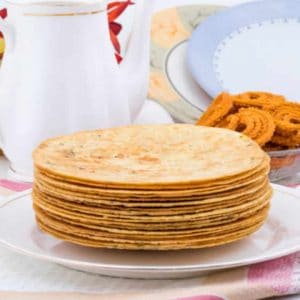 Diet khakhra– This famous western Indian snack made of all the healthy ingredients such as millet flour, gram flour, olive oil, etc. Which is a complete food in themselves. These ingredients combinedly incorporated into a thin crispy snack 'khakhra' are indeed a healthy option for kids to feed with. An essential part of kitchen shelf they are ready to eat relish for the kids as well as elders with no trouble to prepare them before having. This Gujarati dish is a healthy snack with almost negligible bad fat composition with richness of fibers, cereal proteins, which additionally could be a major contributor in weight loss, maintenance of blood sugar levels and a sound digestion. Besides diet/plain khakhra, there are numerous other flavors available, jeera khakhra, methi khakhra, to name some. Khakhras can be used in cultivating healthy food habits for kids.
Ragi chips– Ragi is a gluten free superfood with richness of iron and magnesium meant for a great heart as well as bone health due to great content of calcium as well. All loaded with antioxidants it can a food for a glowing skin and reduced toxins. Whenever it comes to importance of calcium and inclusion of it in the diet ragi/millet is always on the top to be discussed. The high calcium content of this food makes it stand out amongst all listed under calcium rich noshes. It is a choice of snacks for promoting healthy eating habits for kids. Ragi made into healthy snacks like that of ragi chips are the best way to incorporate them into someone's diet. With obesity at an alarming rise these days foods rich in fibers, and serving low calories are what one should look for, ragi being the one serving every mentioned purpose. Rather than encouraging children to have all purpose flour dishes, ragi should be a choice of food for kids snacking. Obesity with itself brings other conditions like diabetes and an imbalanced cholesterol as well for the prevention of which ragi is a boon in a healthy and delicious form called Ragi chips. With so much ease of getting ragi chips from various online stores, they can be served in lunch boxes as a pre-meal snack.
Soya sticks– Soyabean is believed to be the edible richest in protein. Although meat can also be inculcated in a balanced diet to meet the requirements of protein but meats are a storehouse of several other troublesome compounds, also strict vegans too try to opt for veg diets such as soyabean. Besides being rich in protein, soyabean has a great content of omega-3 fatty acids and antioxidants. Protein is a major building block towards a healthy, fitter and a muscular body, requirements for which can be met by consumption of appropriate amount of soyabean. Younger kids seem to be reluctant to have soyabean in a boiled or cooked form posing a challenge against their parents in convincing them to include them in the diet. This protein rich superfood can easily be made a part of kid's diet cultivating healthy food habits in them by turning them into fried sticks called soya sticks which are not only delicious to have but maintain the nutritional value at the same time. It can also be used as one of the healthy food snacks. With a high content of protein soya sticks supports heart due to their antioxidant property and healthy saturated fats. The protein present in it supports mental development and also believed to be a precursor for a healthy genetic life the proof for which lies in the linkage of protein and DNA.